Where to go in Romania
Usually, when you plan to go to a certain place or country, the first thing you search on Google is "where to go in…" or "what to see/to in…".
If you plan to come sightseeing in Romania, I will make your research a little bit easier by posting a list of the major touristic objectives in our country, all of them personally 'savored' and tested previously.
When you come here, most probably you will be landing in Bucharest or you will want to see the capital city, at least for a day or two. So, we`ll first catch a glimpse of the capital and what you can do around there, before going further.
Sightseeing in Romania
1. București / Bucharest 🙂
As you may know, Bucharest is the most important city in Romania from an industrial point of view and the most populated as well, having almost 2 million people living there. It may not be Paris, London or New York, but in recent years many projects have been developed and there are a few places there which deserve to be seen. If you are looking for the typical cliches here are some: The Parliament Palace, Romanian Athenaeum, The Opera House, The Village Museum, The Peasant Museum, Natural Science Museum " Grigore Antipa", Herăstrău Park, Cișmigiu Gardens, The Old City Centre… In addition to those, there are others which are not mentioned literally everywhere, but are beautiful as well.
In the famous city center, amongst old buildings, there is the small and beautiful Stavropoleos Church, dating from 1724, being one of the official historical monuments in Romania. Also, about 30 km away from the city you will find Mogoșoaia Palace and its beautiful lake, where you can spend a relaxing afternoon or try some aqua sports.
All these impressive buildings mentioned above are beautiful on the outside, but they are even more beautiful on the inside. Perhaps you could enjoy a classical concert in the Romanian Athenaeum or at the Opera. Also, a great event which deserves to be mentioned is "George Enescu Music Festival" which is held every two years in the month of September.
Last but not least, you can rent a bike and take a ride in the city or around it. I`Velo has three bike rental centers in Bucharest:  Herastrău Park area – Charles de Gaulle Square, Triumph Arch and Tineretului Park. Also, for those from Bucharest, or those who have the possibility to reach Comana Natural Park (only 30 km away from Bucharest), here is a one day biking track.
Nevertheless, Bucharest has many other small places, events, festivals, concerts, but here is just a brief description of it.
2. The Carpathians
The Carpathians are one of the "must see" objectives when you visit Romania. Either for hiking, biking, skiing or just sightseeing, these mountains are one of the best valuable assets Romania has. As a general guideline, the Carpathian Mountains form a 1,500km long range in Central and Eastern Europe. Their constituent parts stretch west-east in an arc from the Czech Republic to Romania.
In Romania, inside the arc sheltered by the Carpathians, lies the well known Transylvania depression, but we will talk about it later on. The highest altitude they reach on the Romanian territory is 2544m in Moldoveanu Peak and the average altitude is 840 m.
The mountains have beautiful landscapes which vary from region to region. There are many trekking tracks as well as many ski slopes and they are also suitable for mountain biking. The following two photos show Bucegi mountains, one of the most common places for trekking. They can be accessed very easily from Bucharest by going towards Brașov and stopping in either Bușteni, Sinaia, Azuga, Predeal or Poiana Brașov resorts. All of them have hiking tracks as well as ski slopes.
In the picture below, parallel to the Bucegi mountains lie the Piatra Craiului mountains, my favorites. There are two previous written articles, one for biking and the other one for hiking which may help you. The articles can be accessed here and here.
3. Brașov
If you are coming from the capital and you want to go to the mountains, you'll be definitely heading to Brașov. This is what you`ll be looking for on the indicators. 🙂
Situated in the heart of Romania and the Carpathians, Brașov is one of the biggest cities in Romania. I know, a city with 250.000 inhabitants doesn`t count as Beijing, Kyoto or Mumbai, but there is a saying in Romania: "strong essences come in small bottles". 🙂
Brașov used to be well-known a few years ago for being the host of "Cerbul de aur", an international music festival held in the main square of the city.  Its stage hosted famous names such as Thomas Anders, Toto Cutugno, Tom Jones, Sheryl Crow, Ray Charles, Pink or Kylie Minogue.
Some important points of interest: The Black Church (ro. Biserica Neagră), Sfatului Square (ro. Piața Sfatului), The History Museum, Tâmpa Mountain (for a panoramic view of the city) and the whole old city. If you go a little bit further away from the city, you`ll find Poiana Brașov, only 12 km away up in the mountains, which is the most important ski and snowboard resort in the country. If you decide to go by bike, which is amazing by the way, you can find a track here. The track goes further away to Râșnov and Cheile Grădiștei resort, and these are also nice touristic points worth seeing. Râșnov is famous for Râșnov Citadel, dating back to XIV century.
A famous touristic point in the area is the Bran Castle, also known as the Castle of Dracula. The castle is situated in Bran village, on the mountain passage Rucăr-Bran. Despite the popular Dracula legend, the castle has nothing to do with Dracula itself as he was and always be an imaginary character (sorry to be such a spoiler 🙂 ).
But how did the legend start ? Count Dracula, as the book relates, was a Transylvanian count, lord of a castle built on a high rock. He is easily mistaken with Vlad Țepeș, the Romanian ruler, although there is no connection between the two. Most probably, as Bran Castle fits the descriptive criteria from the book of Bram Stoker, people associated Bran Castle with it. But it is highly desired for the visitors of Bran Castle to make the distinction between the Bran history and Dracula character.
4. Peștera and Măgura villages
On the other side of the mountain, opposite to Poiana Brașov, Bran and Râșnov, lie two magical and local villages: Peștera and Măgura. Very simple and picturesque, in these places time seems to have stopped. Situated on a hilly plateau in between Bucegi and Piatra Craiului mountains, they offer the perfect view, showing the real picture of the old traditional 'mother Romania'.
Here, you can walk, ride a bike or simply enjoy the relaxed atmosphere. You will be able to rather easily find accommodation. Here you can find also a biking track for the region.
5. Sighișoara county
Further North from Brașov, only 100 km away, you`ll see another picturesque area, my favorite in Romania – Sighișoara County, with its magical villages: Meșendorf, Viscri or Saschiz and one of the most beautiful medieval settlements in Romania – Sighișoara.
This is also my favorite area for biking; you can find some nice tracks here and here.
All these settlements are old Saxon settlements. In Viscri, you can find one of the most spectacular Saxon fortified churches, a UNESCO world heritage. Viscri also attracted the attention of Prince Charles, who, with the help of Mihai Eminescu Trust Foundation, renovated the church and a few houses from the village.
6. Sibiu and its surroundings
Sibiu, about 100 km West of Brașov, designated as European Capital in 2007, is another "must see" city in Romania. Being the capital of Transylvania in between 1692-1791 and 1849-1865, in the last years, the city flourished, nowadays being the city with the highest number of foreign investments in Romania.
The surroundings of Sibiu are comprised from mountains, hills, lakes, Saxon settlements  and many, many biking tracks. Only 37 km away from the city, there is the ski resort Păltiniș and about 100 km away, in the heart of Făgăraș mountains, you can find the Bâlea glacier lake. Other specific worth seing settlements are: Cisnădie, Cisnădioara, Poplaca, Rășinari, Sadu, Gura Râului.
In terms of biking, there are plenty of nice places. Here are some of them: Sibiu-Cisnădie, Tocile, Emil Cioran Cyclotouristic route, Păltiniș.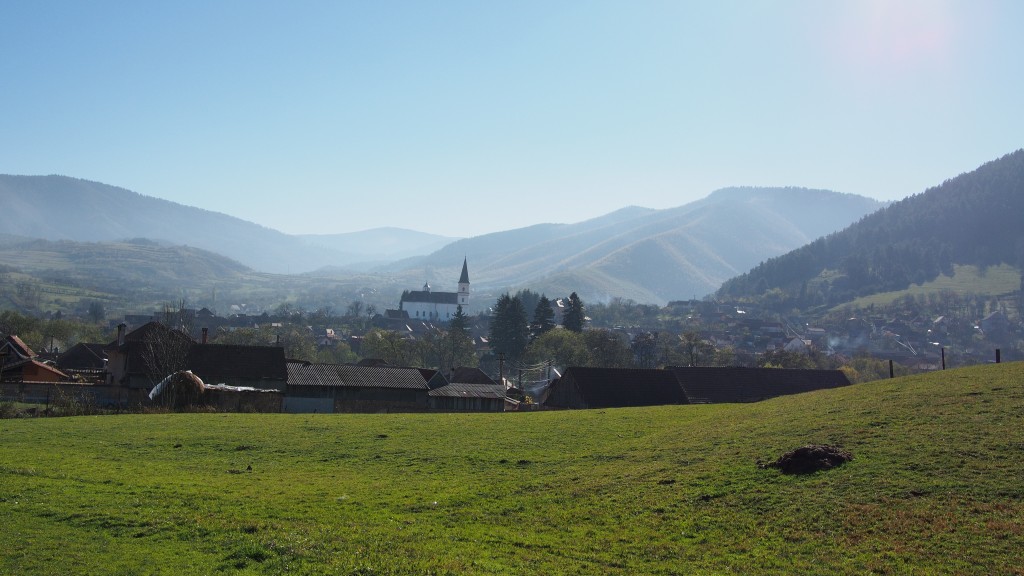 7. Bucovina (or the land of monasteries)
Although it is well-known for its famous medieval monasteries, I prefer it for its amazing Romanian landscapes. Situated in the North-East of the country, about 450 km from Bucharest, very close to the Ukraine border, the place is a true oasis of peace.
Besides the popular painted monasteries:  Voroneț, Putna, Dragomirna, Humor, Moldovița or Sucevița which, of course, are a "must see", you can find a great local place for riding horses in the heart of the nature – Lucina Stud.

8. Cheile Bicazului
In the North-East of the country, you cannot miss Cheile Bicazului. Situated in between Neamț and Harghita counties, in the heart of Hășmaș mountains, lies one of the "natural capodoperas" of Romania. The area, having a length of 6 km, was created by the Bicaz river and connects Transylvania to Moldova.

9. Maramureș
Opposite to Bucovina, in the North-Western part of the country, lies Maramureș, both county and region, once one of the most representative images of Romania. This used to be the most traditional place in Romania. Nowadays, unfortunately, the place was quite destroyed by the local people who replaced the small traditional houses with new and gigantic houses… To be honest, the place didn't exactly meet my expectations, but still, there are some places left which deserve to be seen. These are the local wood churches, such as Bârsana, from the picture below or the Happy Cemetery from Săpânța.
Also. in Vișeului Valley, you can find an old train – Mocănița – which still travels for touristic purposes in a few moments of the year. For more info about the train, you can visit the official website.
10. Cluj and its surroundings
Cluj-Napoca has become some a sort of Bucharest lately. A Bucharest of culture, I may say. Transylania`s most important urban center and the host of the TIFF film festival.
But, around Cluj, there are so many other places which deserve our attention:  Apuseni National Park, Gilău mountains, all the villages from its surroundings (Mărișel, Beliș, Someșul Rece), the sunk church from Beliș lake or "The blue Lagoon" from Aghireșu. There are probably many more out there, but I only enjoyed these for the moment.  🙂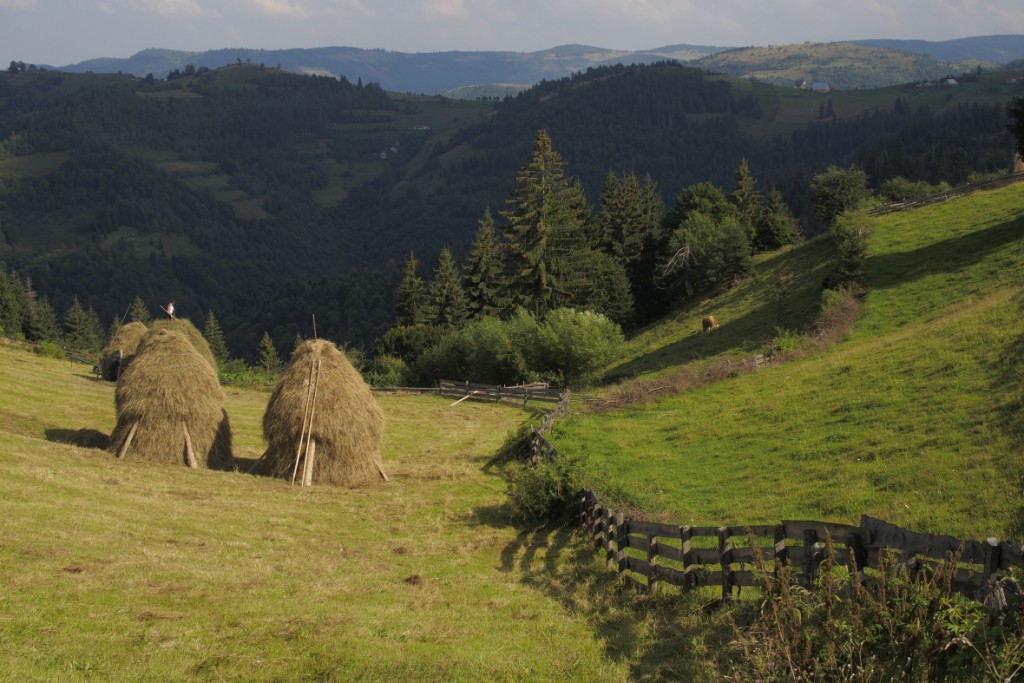 Enjoy the visit !
 Andrada