Meet Alice Botnarenco, a successful Romanian business woman
Entrepreneurship is a trending topic lately. Numerous businesses are being launch worldwide. Some of them conquer their targeted markets, others fail.
In this new article/ interview, we invite you to learn more about a successful Romanian entrepreneur. Her name is Alice Botnarenco. She is the founder of the "Women in business" network in Romania and also the creative CEO of the fashion brand ALISIA ENCO. The brand is well-known mainly thanks to its business shirts for women. They have an artistic / creative touch inspired from the traditional Romanian culture.
Your background as entrepreneur in few words?
Alice Botnarenco : "I started my first own business when I was 23 years old. It was a car rental firm.
In 2009 I've started to develop the network 'Women in Business'. It's a non-profit organization dedicated to Romanian women who are entrepreneurs or work in big companies.
In 2014 I've launched a new business and created the fashion brand ALISIA ENCO.
During all this period I was also involved in several other projects: I ran my own radio and TV program, was a mentor for some young ladies and I have also attended several international events and conferences as a speaker."
About Alice Botnarenco, the woman
When you look in the mirror, who do you see? How would you describe yourself?
Alice Botnarenco : "I am an ambitious woman, creative and open to challenges. Change stimulates me more than comfort and inertia. I am hard-working and I pay attention to detail. Sometimes I can be perfectionist. I don't like extreme actions or attitudes. Balance is one of my main assets and I trust that everything ends well if you put the right amount of effort into it, without exaggerating however. Otherwise, I am currently working on my patience skills.
I am a combination of courage and creativity on one side. But on the other, I am looking for roots and stability. I like to experiment. But always in the presence of my dear ones. I have never been able to be apart of my family and I don't intend to do so in the future either."
How do your dearest ones see you?
Alice Botnarenco : "I like to think that they see me the same way I do: as a strong woman, open to challenges, creative, optimistic and happy."
What are you very proud of and the public doesn't know it?
Alice Botnarenco : "I am very proud and happy about having become the mother of a beautiful and smart boy. The focus on family life from these past couple of years has completely influenced the vision I have of life. It has enriched me and made me more mature."
What have you borrowed from the Romanian culture and defines you as a human being?
Alice Botnarenco : "I am a creative person and this is a typical characteristic of Romanian people. Personally, I get easily bored once I master something and I need to break the routine. I need to change my ideas and feel refreshed. I find inspiration wherever I can around me and I like to think that I could also inspire other people."
What are your favorite spots in Romania?
Alice Botnarenco : "Romania is a country that holds many incredibly beautiful places. There are several options for travelling and relaxing. Personally, I love the beach and the sun. I have some confidential addresses at the seaside in Romania, from Mamaia up to Vama Veche. I go there with great pleasure every year in order to recharge my batteries. 
Maramureş area (northern Romania) is very beautiful also. It is a picturesque region with pure and traditional customs, authentic people and amazing natural spots. A sort of timeless Romania, like an open air museum where people can discover many authentic details. The traditional patterns on the ALISIA ENCO shirts are inspired from the Romanian culture that also needs to be well-known abroad."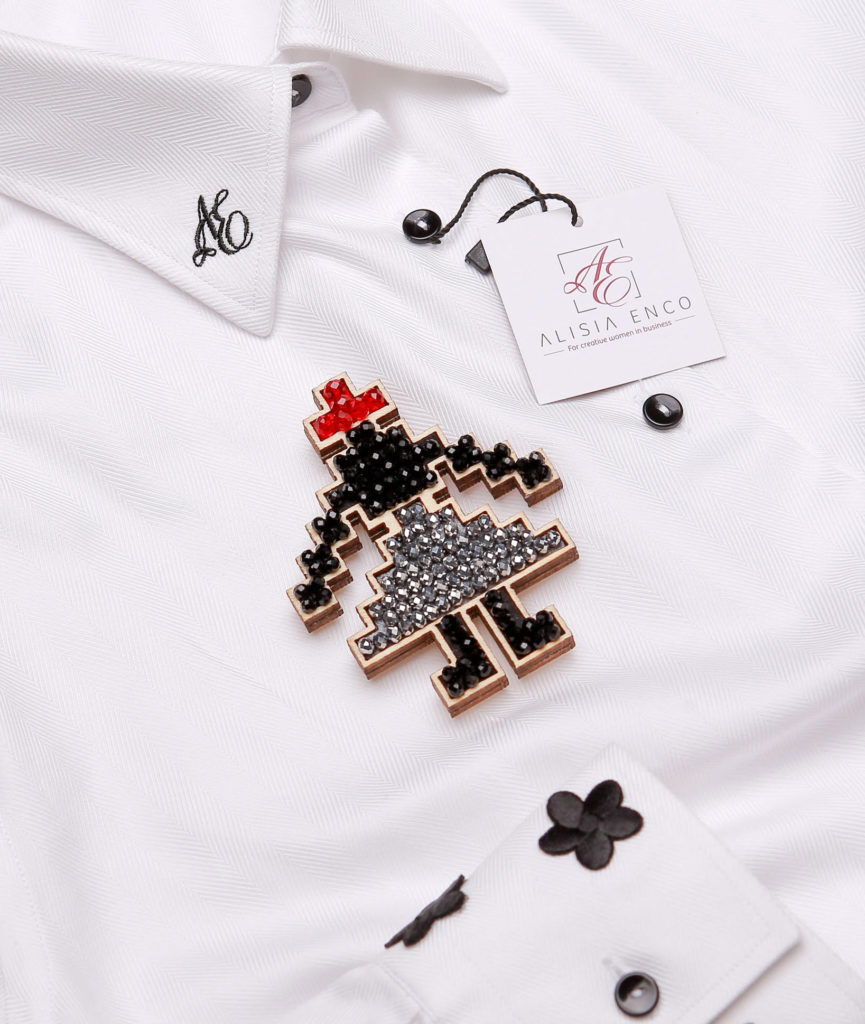 Your favorite Romanian meals?
Alice Botnarenco : "Polenta with cheese and cream, the most minimalistic and savory Romania meal in my opinion. I like simple food that tastes good and is made of local ingredients, well-cooked, in the right combinations. The Romanian cuisine is tasty but not necessarily in a refined and sophisticated way. The taste and pleasure come from the creative recipes and the passion for food."
Your favorite saying?
Alice Botnarenco : "'Don't do to others what you wouldn't want done to yourself.' The golden rule of humanity, the foundation of all relationships in between humans. I think this few words are very meaningful and contain the go-to truthful idea to which we can turn whenever dealing with other people."
People who are an inspiration or you admire in Romania?
Alice Botnarenco : "I admire entrepreneurs – men or women  – who have the courage to create value with the power of their mind and honest efforts. Many people come to my mind, so I can't give names. I know many extraordinary women who have proved to be courageous, honest, passionate and hard-working in their field of expertise. Leaders who have created beautiful  and profitable companies where many satisfied people work. 
Romania has been deeply changing in the past couple of years and is searching to empower people with great values. People who dare to fight in order to improve their lives."
About the brand ALISIA ENCO
You are the founder of a fashion brand dedicated to women in business…
Alice Botnarenco : "It's a job that both fulfills and defines me. The Manifest is inspired from the beginning of my professional activity. When I was organizing networking events for business women in Romania. Observing them and their appearance, the idea that I could inspire them in the choice of their look and clothing stroke me. Not just help them network. 
I have noticed that everybody wore shirts. I saw many dull basic shirts. That's when I had the inspiration to reinvent the shirt. To make it more creative and fun. To give women more courage and to free them from what they considered the business standards in terms of appearance.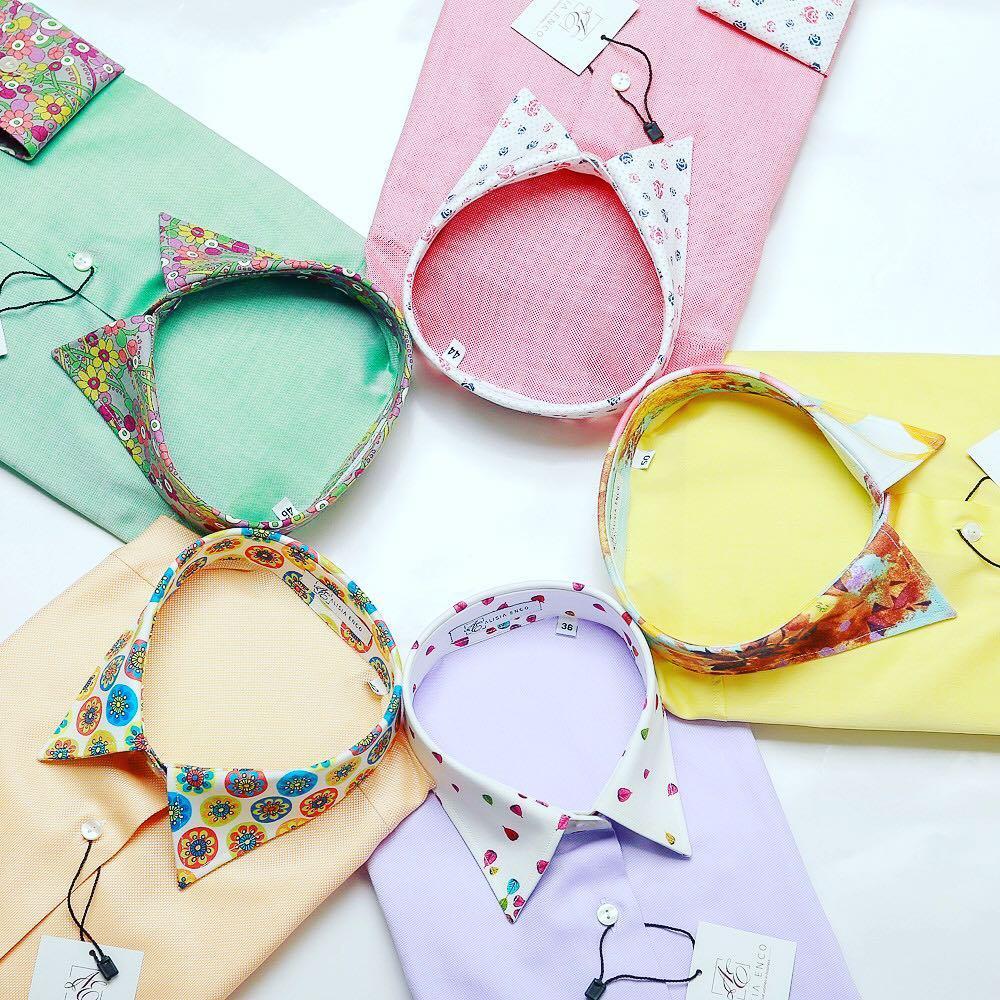 Everything started with the white 'signature' shirt, made out of the best cotton and impeccable finishing touches. Then, step by step, we enriched the collections with patterns inspired from the authentic Romanian culture, from Greece (a cherished destination for me) or from other colorful themes. In business, but also in their professional lives, women need colors, versatile textures and creative surprising patterns.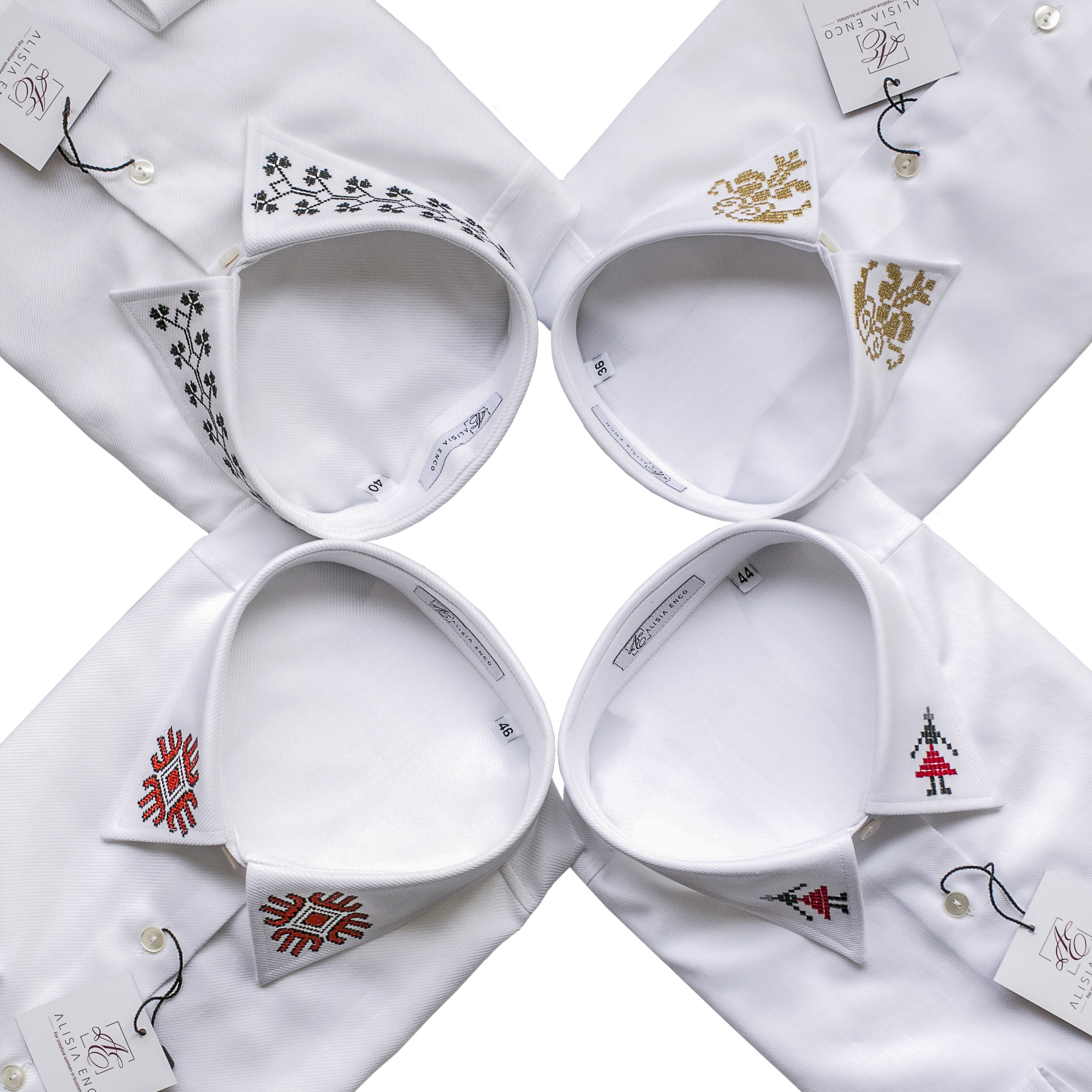 A business look is not reinvented by simply twisting in a creative way the central piece (the shirt). It also requires paying attention to the accessories that come with it. From collars, scarves and wristbands to brooches, pins and feminine ties. We also offered some additional pieces of clothing like ponchos, jackets and cardigans. Slowly, the collection has become richer, more versatile, casual and optimistic. Just like the women wearing it."
Where can people buy your products?
Alice Botnarenco : "I am happy to say that all the ALISIA ENCO fashion items are available for purchase worldwide on our website (www.alisiaenco.com).  
In Romania, customers can access the website www.alisiaenco.ro and they can also visit our showroom in Bucharest."
About the community "Women in Business"
You are the founder of the "Women in Business" organization. What was your motivation to create this community? What's its purpose?
Alice Botnarenco : " I've been drawn to the business environment since I was very young. As my personal network grew, I've come to realize that women really have a say in business. They bring empathy, creativity and balance. It seemed logical to set up an organization dedicated to women's leadership.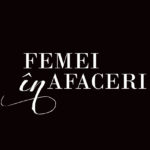 'Women in Business' is meant to be a source of inspiration for women who want to achieve a successful professional career (through the interviews, events and news that are shared on the website). It is also a platform for networking and promoting their business. 
Over the years, women – may they be entrepreneurs, freelancers or managers in big companies – have proven that they are willing to inspire each other, help each other and grow businesses and projects together. In their own way compared to men: less in search for status and more willing to do good things, things that are right for them and for the people around them. And with a more pronounced aesthetic component. There are many women in the 'Women in Business' community who care for creativity and beauty in what they do, and this makes me very happy."
Any events and plans for the future?
Alice Botnarenco : "We are currently working on improving the platform 'Women in Business', which is an online business magazine. We intend to continue developing what we have started in 2009 and to adapt the community to the numerous challenges of today's life. Men and women leadership are changing with the rise of new technologies, the evolution of relationships between different generations and the changing perception of work nowadays. We learn to adapt and this very challenge keeps us awake and boosts our creativity. 
Regarding the brand ALISIA ENCO, we have some fresh new ideas that we would like to develop. But we will keep you posted in due time."
Andreea