Bragadiru Palace, the perfect place for your event
{Marriage Testimonial}
In Romania, as in many other countries, it is very common for people and companies to organize personal and corporate events in restaurants or reception halls. Preferably with an exterior garden in summer time.
When celebrating an important event in Romania, people's main focus is on food and drinks. Depending on the occasion, you can add music to the equation. People often hire a live band, especially for marriages. Stylish or themed decorative elements have become very trendy recently as well. The architecture of the place is a bonus, but unfortunately it is rarely a main choice criterion. It is frustrating because a unique beautiful architectural style creates a more impactful visual effect and long-lasting memories.
An extremely beautiful location in Romania is Bragadiru Palace (Calea Rahovei 147-153, Bucharest), not very far from Casa Poporului / the Palace of the Parliament.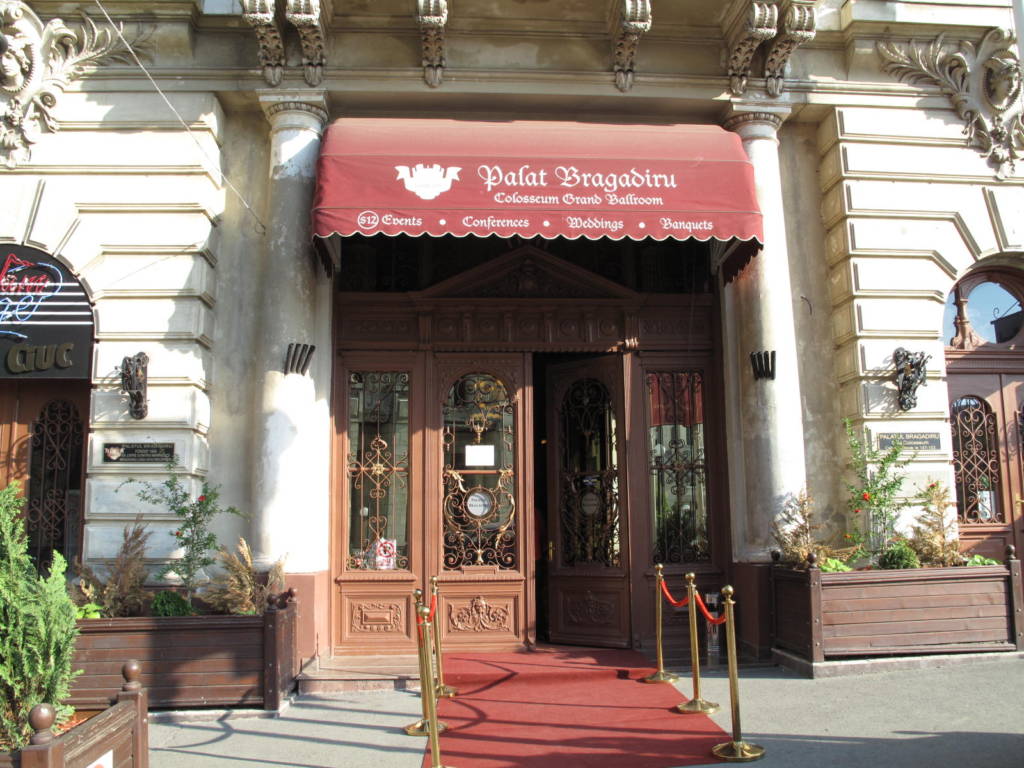 Why I recommend Bragadiru Palace
I strongly recommend this location for all sorts of events: weddings, gala parties, dinners, photo shoots or any other private or corporate events. In August 2017 I have celebrated my wedding there and I truly believe it was the best choice. Not only the place is amazing, but the staff and services are highly qualitative as well.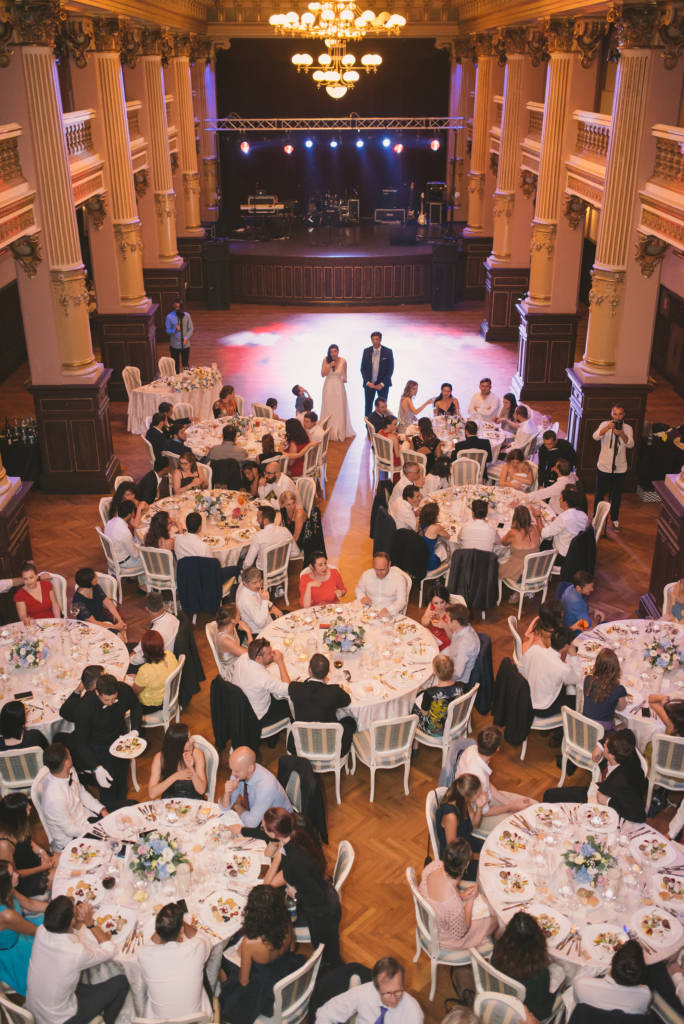 Bragadiru Palace is not a museum and its interior is open for privatisation for different kinds of parties. The guests can actually eat, drink and dance in the palace itself. Not in a reception room near the palace, not in a tent located in its garden, not in a restaurant outside of the palace. And this is rather rare in Romania where the culture of getting married in a castle is not very common.
1. The Ballroom is incredibly beautiful and stylish
If you have always dreamt about feeling like a prince or princess for one day in your life, you can do so at Bragadiru Palace. Indeed, the architectural details and style of the palace are very beautiful. From the moment you will cross the threshold of the imposing big red door, you will forget about time, space, urban pressure. You will enter a whole new and different universe where a red carpet and white marble spiral stairs will guide you to the what they call "the Ballroom".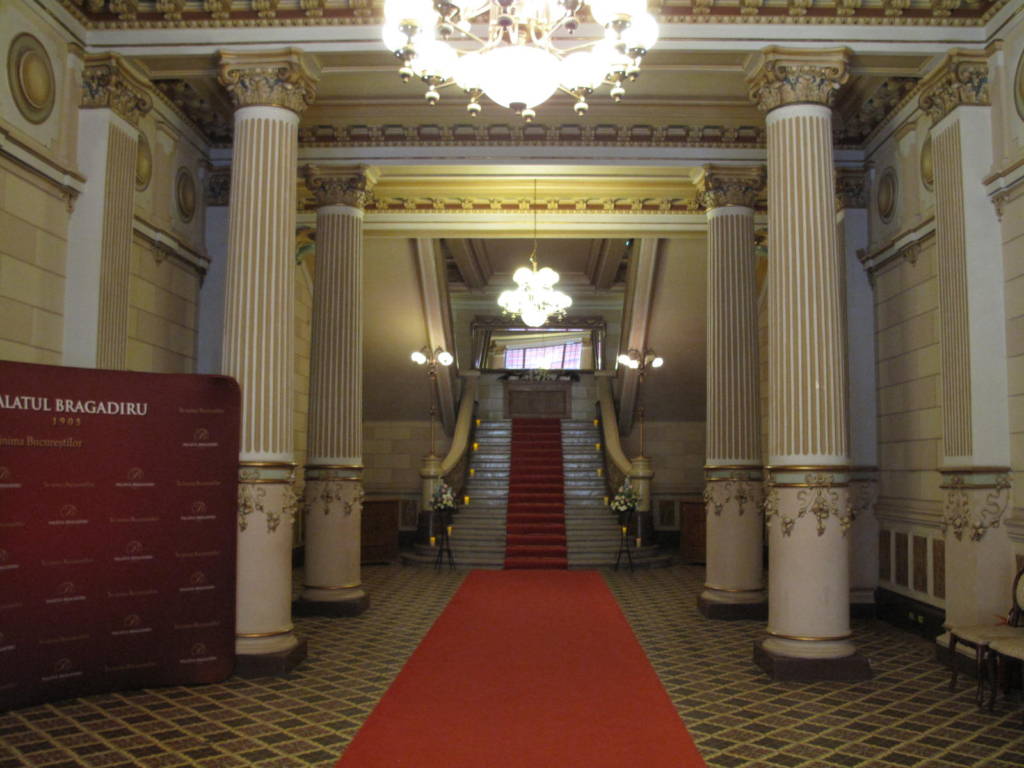 The Ballroom is very wide and has a wooden floor where round tables are placed in the order you decide and decorated as you want. There is also a giant stage for a band or an orchestra to play, a dance floor, an isolated bar area to freshen up and two sets of metallic spiral stairs will take you to a superior floor from where you can have a panoramic view.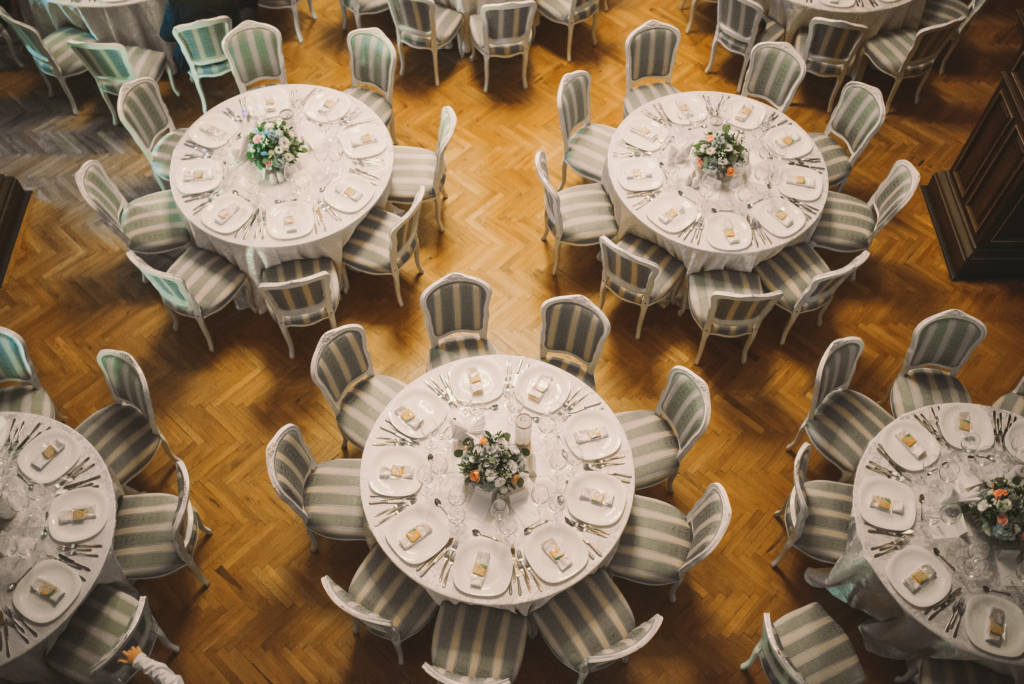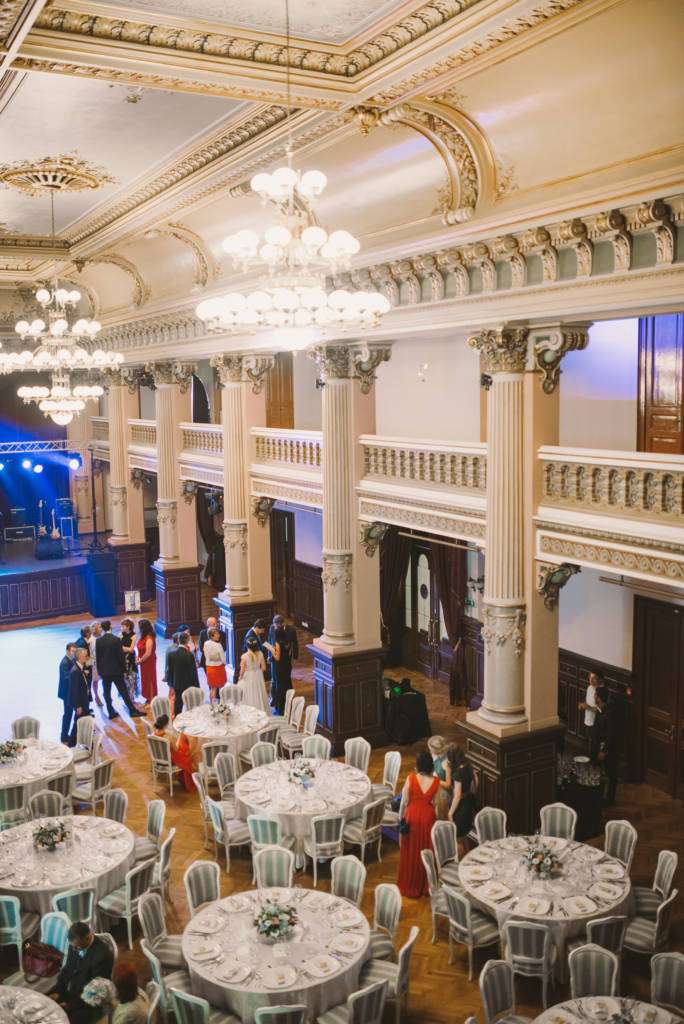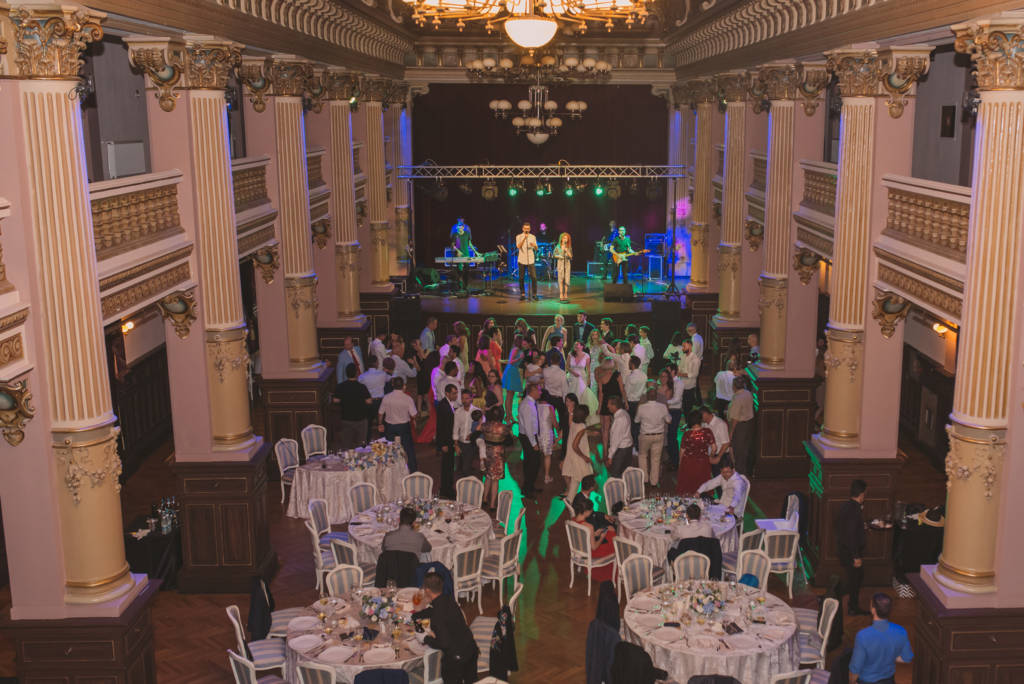 2. The garden is perfect for summer events
The location also includes a terrace and a garden where one can organize activities when the weather allows it. The space available is rather big and you can even have a small wedding outdoors. 
In our case, we used the outdoor space the entire evening. We started with the photo shooting session on the terrace. Then we had a religious ceremony in the shade of the trees.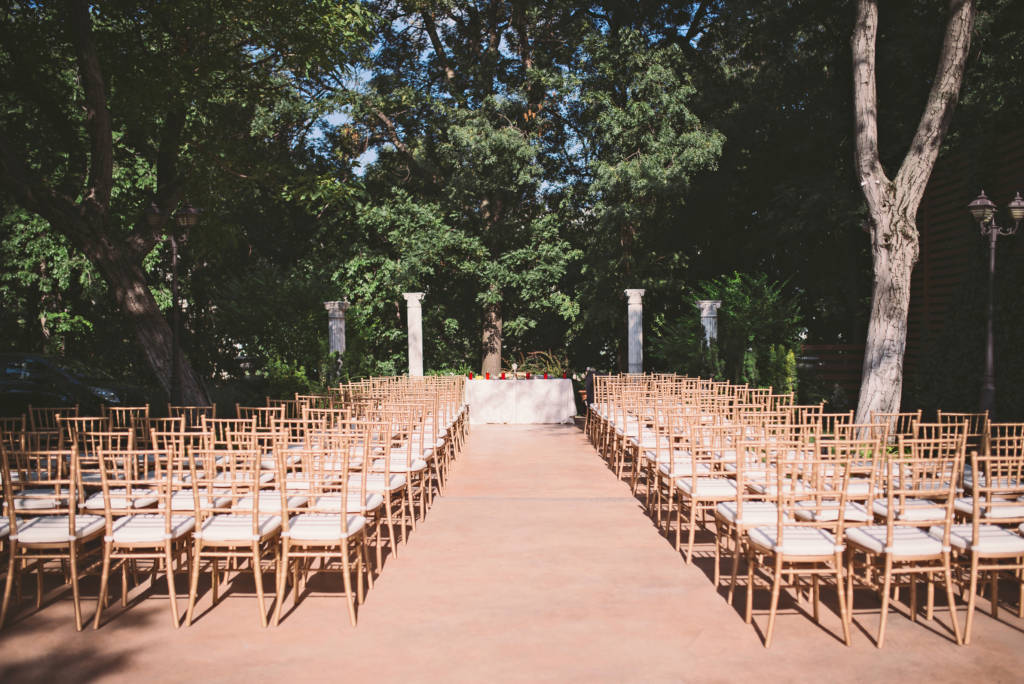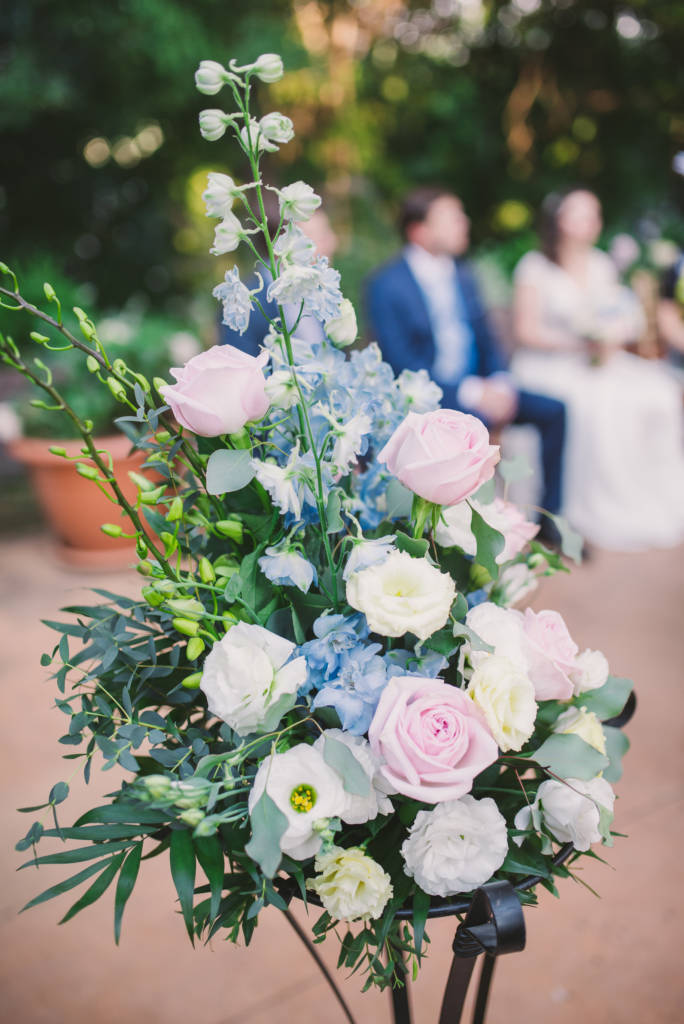 A cocktail followed. The quartet near the fountain delighted our guests with beautiful music.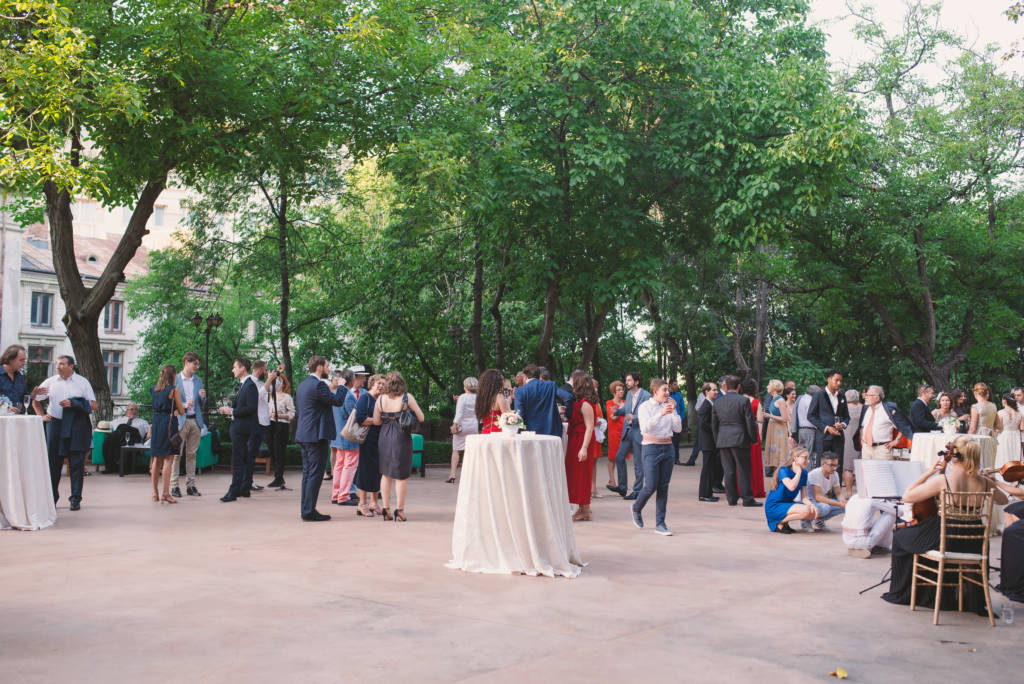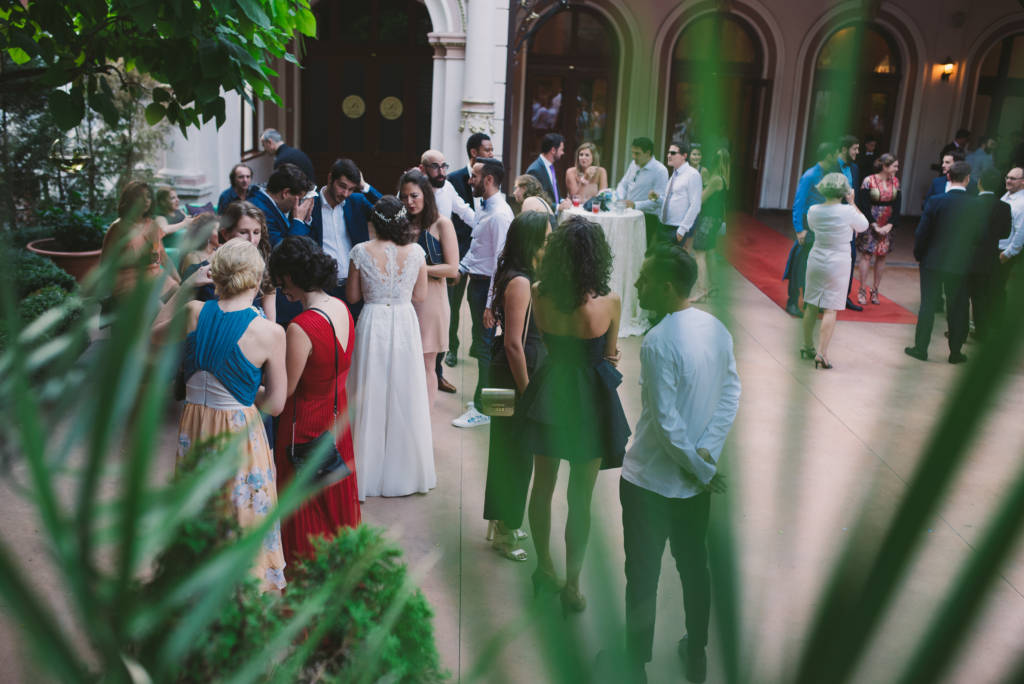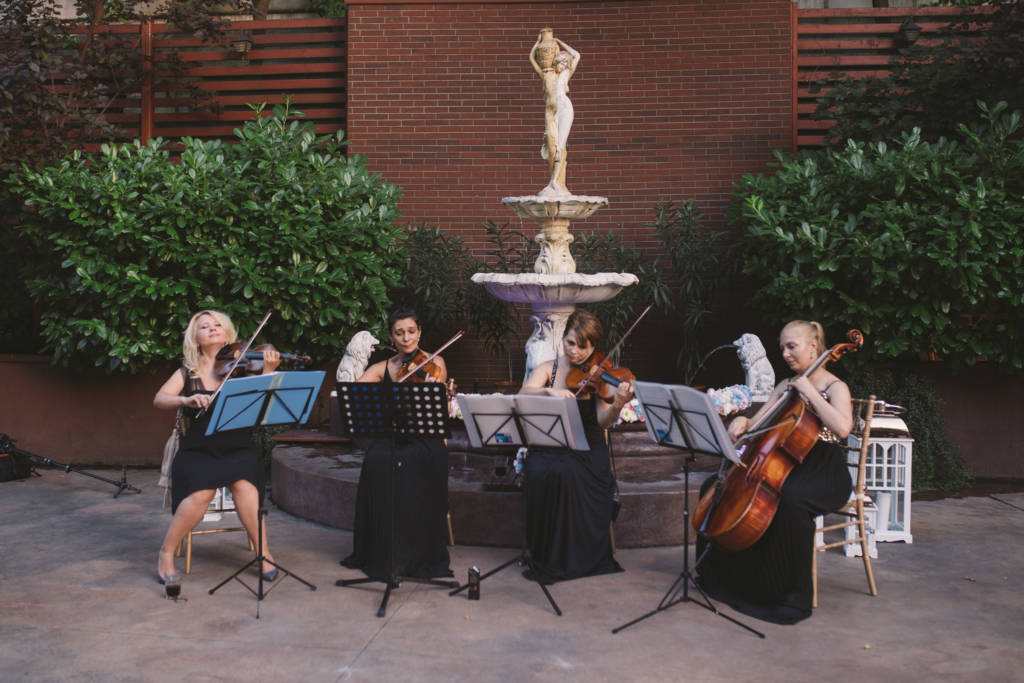 Afterwards, during the night, when pausing in between meals or when tired after dancing, our guests went outside on the terrace to chill, to sit on the sofas, have a chat, a smoke or a drink and admire the sky.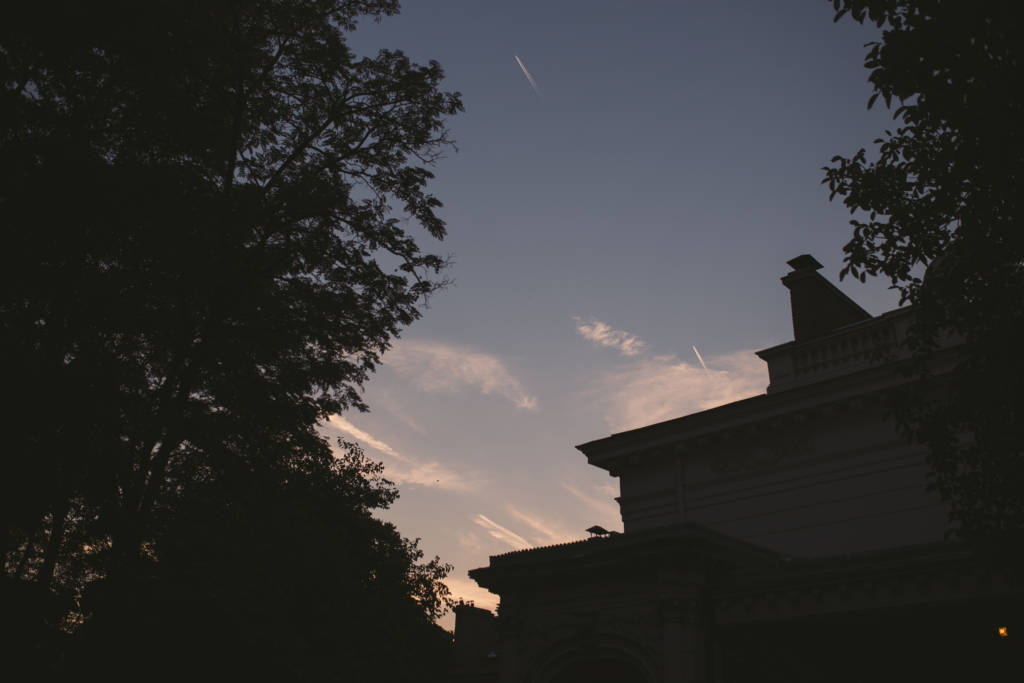 3. The food is great
I don't remember the chef's name, but she was great. She delighted us with all sorts of small cold and hot bites, traditional Romanian dishes but also international cuisine. The well thought menus included several courses and they were tailored to our requests. In addition, we had a mix of regular (fish or meat based), vegan and kids menus. And the desert cake was great! Not only it was beautiful from the outside, but it tasted amazingly well. We chose an original recipe and had a piña colada wedding cake.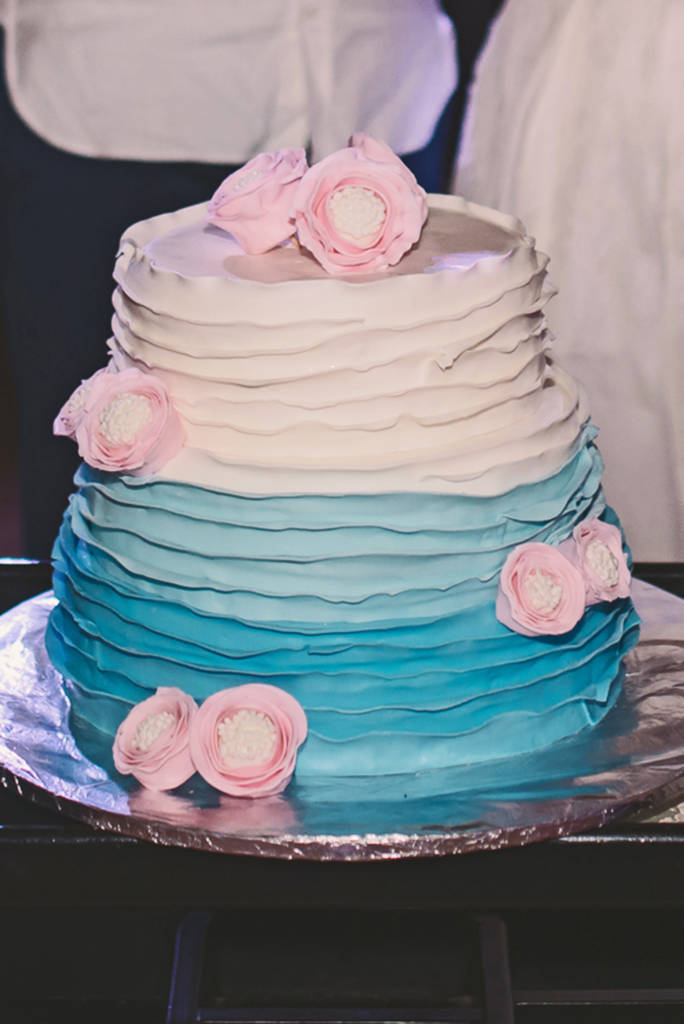 4. The staff is exceptional
Another criterion very important for me when choosing the location was the staff. What I particularly appreciated when organizing my wedding at Bragadiru Palace is that the event manager, Roxana Chirițoiu, was extremely helpful, reactive and solution oriented.
Herself and the team working with her were very professional and pleasant. Before the event, they did their best to answer all our questions, to fit our busy schedules and be as useful as possible. Reactivity and flexibility were huge strengths. Then, the D-day, everything went smoothly and we could enjoy our evening with our guests.
Therefore, if you want to organize a successful event in Bucharest, I strongly recommend Roxana Chirițoiu and Bragadiru Palace. You won't regret it.
Andreea
*Most of the pictures in this article were taken by Romanian photographer Katerina Nedelcu