Biking in Romania: Târnava Mare
I have told you about Târnava Mare before, in a previous article. And I will tell you about it in the future again. It is such an amazing place! Today`s tour comprises 2 smaller bike trails, especially created for biking: Criț – Bunești and Criț – Meșendorf.
Unfortunatelly, the area can only be reached by car, unless you want to cycle 30 km from Sighișoara. But I have heard that this problem will be solved quite soon. I will reverse a little bit the first trail, cycling from Bunești towards Criț, then will continue on the second trail,  Criț – Meșendorf. The way back from Meșendorf will be done on paved road, but this is not a problem, as there`s no traffic.
Detalils

:  
Length: Bunești – Criț (4km), Criț-Meșendorf – Criț (15 km)
Difficulty: medium
Average time : 3-4 hrs
Equipment: rainwear, wind stopper, spare wheel room + bike pump, enough water, anti-mosquito spray, helmet, bike gloves and you bike, of course 🙂

Map: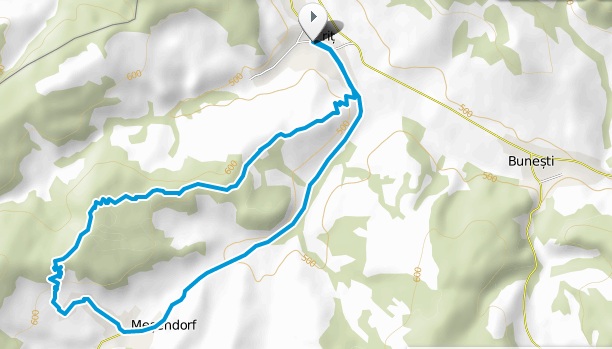 Detailed maps can be found here and here.
The trip starts somewhere from Bunești village center. Depending on where you are coming from, take right (if you are coming from Sighișoara) or left (if you are coming from Brașov) on the road towards Viscri (there is also an indicator towards Viscri). After that, after about 300-400m on this road, on the right hand side there is the beginning of the trail. Be careful, though, as you might miss it if you are new in the area.
The first image represents the beginning of the trail, to have a better view of it. The way to Criț is very easy and won`t take you more than 30 minutes.
Once you reach Criț, you have to take the next trail, towards Meșendorf. This is not difficult to find at all, as it starts right where the other one finishes: on the first hill across the road, to be more specific. Most of the time, there is an indicator, but I cannot guarantee you that… we are in Romania. 🙂
The first part of the trail is more difficult, mostly for the beginners. There is a steep hill to climb, but once you reach the top, the level differences start to equalize.
Next, the trail continues mostly through the forest. The landscape is simply incredible, mainly in October, but I think it looks amazing all year round. Here is the proof!
After the amazing forest, you`ll reach a point where the landscape looks even more amazing – Meșendorf village seen from above – a typically Saxon village located in a valley where time seems to have stopped. Here, life seems to have another meaning, people are warm and friendly and the daily worries lose their importance.
I forgot to mention that the last part of the trail traverses a typical Romanian meadow, where I felt that I became again the child from my grand-parents yard. 🙂
In Meșendorf you can visit the Peasant Citadel, dating from XIV-XV centuries, where you`ll also find the Evangelical Church and St. Nicholas Church.
The way back from Meșendorf can be done either on the paved road to Criț or on the same track, in the opposite direction. You choose. The paved road doesn`t have traffic and is going  down the slope, so, if you are a little bit tired, I think this is the best option.
Have fun!
Andrada