Ana Puşcă, Romanian in Paris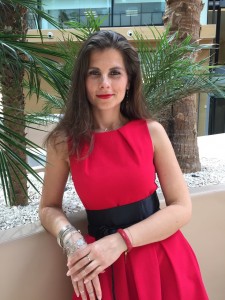 "My name is Ana – that was the easy part when it comes to describing myself…
I've been in Paris for 16 years now, where I have studied mathematics. I have a specialization in Financial Modeling and I've being working for 10 years in this field of expertise. I was extremely lucky because I had the opportunity to live an amazing experience both on a human and professional scale working in a start-up for 7 years, which was bought two years ago by a well-known American company. Currently, I'm in charge of the independent valuation activity for OTC Derivatives (financial products) and I am managing a team of 8 people.
But beyond all these concrete and professional aspects, stands my world: I absolutely adore travelling, taking long walks in Paris, having brunches on Sundays, going out, doing cultural activities and exchanging with my friends. I am a curious person and I like it when life surprises me, even if it's not always in a positive manner.
The phrase 'they didn't know it was impossible, so they did it' inspires me very much.
Today's Romania reminds me of adolescence, that period when the personality is flexible and can easily adapt to new horizons and changes, forgetting about the past and its sad experiences and heading quickly towards the future in order to integrate in the new European context and among demanding neighbours… It is a country currently growing up, becoming mature but which doesn't necessarily learn from the mistakes done by others… However, for me, Romania is associated to my roots, it is the place where everything started for me, the first milestone of my journey towards new adventures and cultural discoveries. Every time I go back to Romania I become all emotional and I really enjoy and appreciate our culture. It's like visiting a grandmother or a family member that I haven't seen for a long time.
Today, I see myself as Romanian especially when it comes to the way we Romanians have to warmly welcome people into our homes, to open our doors to our friends but also to the friends of our friends 🙂 . Also, I have borrowed from the typical Romanian style the easy and straightforward contact with people that I have just met.
I feel Romanian because, for me, Romanians are a mixture of a strong Latin side and a 'breeze' of the Slavic attitude, characterized by punctuality and organizational skills. But, at the same time, I feel European, because Romania and France are both part of this continent. I've travelled a lot in the past 16 years and all these experiences made me put things into perspective: I feel good among Europeans, and I have the sensation that we all share a strong culture, with long lasting traditions (Easter, Christmas..), a past very rich in events & common experiences (like for instance communism) and a European mentality hungry for culture, travels, art and history… And still, each nation has its different and specific customs, Romanians being very welcoming and open, but fighting hard for a stable situation."
Ana
Link to the campaign "I'm Romanian"
The Romanian version here