About Lively Romania

"Lively Romania" is a platform where anyone can feel at ease. A platform where Romania appears unveiled: beautiful, fascinating, welcoming, superficial, indifferent or contrasting.
A modern big picture of Romania with lovely stories, beautiful landscapes, interesting ideas and inspiring people.
4 main categories present Romania:
Lively Romania is a project very close to our heart, a space for emotions and reflection, simple and warm. A platform where you can discover yesterday's Romania with its forgotten people and customs, the main source of nostalgia. Along with today's Romania with its events and people that create more or less controversy, with new habits and young promising artists, as well as amazingly beautiful places. But also an outline of tomorrow's Romania.
The snapshot of a country that is contouring more precisely its social, cultural and economical identity in the European context.
WHO WE ARE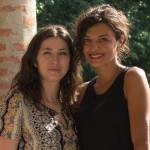 – Andreea (Paris) – a curious Romanian, in love with marketing and communications, a world wide woman wannabe.
– Andrada (Bucharest) – a Moldavian (originary from the N-E of Romania and not the Republic of Moldova) who dreams about flying, who believes in the power of big dreams and simple things
* Localization & Map of Romania